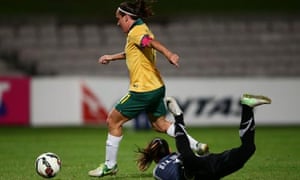 With five World Cup goals under her belt already, Lisa De Vanna is one of those who could see the Matildas go deep into the tournament. Photograph: Matt King/Getty Images
Lisa De Vanna
No list can start without the player that has excited and infuriated fans and coaches in seeming equal measure over the last decade. A mercurial and rare talent, De Vanna possesses the potential for the sublime, as demonstrated by her FIFA goal of the year shortlisting; but often also gives the impression that the red mist, or a red card, is never too far away.
On her day, you can't stop her – ask the Norwegian defenders at the 2007 World Cup, where four goals across the tournament saw De Vanna selected in the all-star team. And yet by her own admission, Lisa De Vanna doesn't always come out to play.
She's had set-tos with coaches and teammates alike, but Alen Stajcic's decision to reward her 99 appearances and third World Cup campaign with the co-captaincy may have shown De Vanna the respect she deserves. This, coupled with the fact that Caitlin Foord, Sam Kerr, Kyah Simon and Ashleigh Sykes are all breathing down her neck for a starting berth, could harness the best De Vanna has to offer.
Matildas' fans will cross their fingers – it may only take a moment of the De Vanna divine to decide an incredibly tight group.
Elise Kellond-Knight
In a team full of 'names' it might prove to be one of the Matildas' seeming 'lesser lights' that proves pivotal in Canada. While the Matildas' attacking options are up there with the best in the world, no one player will have more responsibility that Kellond-Knight when it comes to protecting the team in transition.
Should the quietly spoken Brisbane Roar midfielder get the nod ahead of Teresa Polias (or even Alanna Kennedy) in the all-important No6 role, expect her ability to screen the back four, cover for the marauding runs of Steph Catley, and generally slow opposition attacks, to prove crucial for the Matildas.
It's a role especially important to Alen Stajcic's tactical system – the Claude Makelele to Katrina Gorry's Zinedine Zidane if you will – and Kellond-Knight's ability to read the play, control tempo and put herself about when necessary, might prove decisive.
Being domestic teammates with both Gorry and Tameka Butt (should she find minutes in the middle), this understanding could be the glue that holds the Matildas' midfield together. She was judged by FIFA's technical committee to be worthy of the all-star team at the 2011 World Cup; let's hope four years on Kellond-Knight's only got better.
Michelle Heyman
It's rare for a side to go deep into a tournament without an out-and-out goalgetter; and while Australia will rely heavily on whoever wins the race to fill the two wide forward starting berths, should Michelle Heyman start centrally, she could prove the heartbeat to the Matildas' attack.
Preferred to Kate Gill in the Asian Cup final of 2014, Heyman proved more than a handful for the reigning World Champions Japan, and yet showed moments of wastefulness that teams hoping to go deep into tournaments can't afford.
Despite fifty plus goals domestically, Heyman has that Alex Brosque-like capacity of being in so many brilliant scoring situations – in large part due to her own excellent work during the buildup – yet not quite converting perhaps as many as she should.
Over the past five-six months though, Heyman has had a strong run of finding the back of the net, and with Stajcic omitting Gill from the squad altogether, seems to have unequivocally cemented herself as the best No9 in the Matildas' arsenal.
Sharp and clinical against Vietnam in the Matildas' farewell game, look for Heyman to hustle and harry opposition defences – she'll hope to add poacher's goals to her repertoire if she's to maximise Australia's opportunities at the pointy end.
Emily van Egmond
At the head of the Matildas' Generation Next is the remarkable twenty-one year old Emily van Egmond. With forty international caps already under her belt the Newcastle Jets captain (and daughter of former coach Gary) has been earmarked as a future leader, named as one of the team's two vice-captains.
Aggressive, imposing, and skilful to boot, van Egmond is a box-to-box midfielder whose partnership with Katrina Gorry could prove one of the real strengths of this Matildas side. Look for both to get among the goals, with late runs from midfield being a feature of the Matildas' impressive performances over the past five months.
A gifted freekick specialist, she can almost single-handedly turn matches through sheer will (as anyone watching last season's decisive W-League round 12 clash with Sydney FC can attest). In a daunting opening fixture against Team USA, van Egmond's character and big game reputation will be key to inspiring those around her.
Melissa Hudson
It's risky to suggest that one of those who could make a vital difference, is a player who may not even see game time in Canada; but such is the experience that Hudson (née Barbieri) possesses, her influence in the dressing room alone could be key.
Deemed surplus to requirements in 2011 by club side Melbourne Victory with young 'keeper Brianna Davey handed the No1 jersey, the veteran showed incredible resilience and fortitude to bounce back at Adelaide United, winning W-League Goalkeeper of the Year in 2013/14; and another stellar season appears to have forced Stajcic's hand.
Heading to her fourth World Cup, Hudson is not just a font of incredible knowledge for a young Matildas squad, she's also a living link to the remarkable experience of seminal figures of the women's game such as Cheryl Salisbury, Jo Peters and Heather Garriock.
Lydia Williams may well get the nod to start in goals for the Matildas, but even the competitive pressure from Hudson will have done her game wonders – a confident 'keeper at the top of her powers will be a must for the Matildas, with three wonderful attacking sides looming in the group stage.
Referenced from
http://www.theguardian.com/football/blog/2015/jun/04/womens-world-cup-matildas-key-players