image: http://www.perthglory.com.au/di/library/Perth_Glory/37/83/melissa-maizels_18eb6yknn3vph1nm9c75n3jccw.png?t=1719723504
–
The unbeaten Glory take on Newcastle Jets at McDonald Jones Stadium as part of another massive double-header.
The spirits and confidence levels are high at the club's Dorrien Gardens home, with both coaches praising the impact of the imports ahead of Round 3.
"Intensity is really high and everyone's really motivated, and I think that just facilitates good football," Assistant Coach Jessine Bonzas said.
"They (new signings) came late in the pre-season, but I think they've started to gel with the local girls now very well and it's evident on the park," Despotovski added.
The Jets were rampant 4-0 winners over Melbourne Victory in Round 2, but despite the impressive attacking display, Bonzas insists the focus is on their own form.
"We're going to focus on our own game," she said.
"We're going in with really good form too, so if we go in with good form and we take care of possession…then hopefully we'll nullify their strengths."
Head Coach Bobby Despotovski is looking forward to the match-up against Newcastle Head Coach and friend, Craig Deans.
"It's going to be a hard game," Despotovski insisted.
"His (Deans) sides are always organised and always give 100%."
The Round 3 fixture will also have a strong National Women's Soccer League (NWSL) flavour, with Alyssa Mautz and Vanessa DiBernardo taking on Chicago Red Stars teammates Jen Hoy and Arin Gilliland.
Key match-up: Jen Hoy v Alyssa Mautz
image: http://images.performgroup.com/di/library/Perth_Glory/52/72/mautz-v-hoy_1r0ndzhc8xdfy1r7n6i1ep6dl4.png?t=1818941344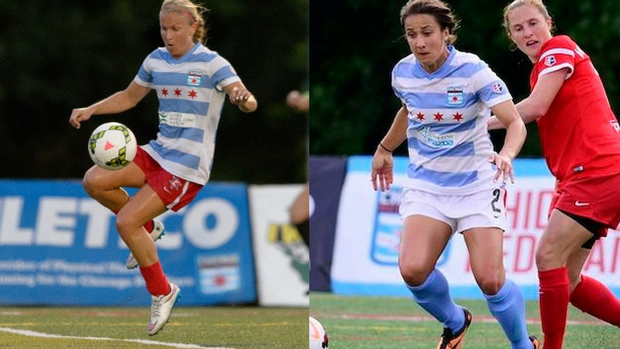 The battle in midfield will be a familiar one for the Chicago Red Star pair, with both players already proving vital assets for their new teams. The American duo could prove crucial to their sides, as the attack-minded midfielders look to get off the mark this season.
Star: Melissa Maizels
New Glory number 1, Melissa Maizels, has made an inspired start to her time at the club. Her crucial saves in Round 1 and match-saving display against Brisbane last weekend has seen the former Canberra United player win many plaudits, including Glory keeper coach and former Charlton Athletic player Andy Petterson. "She's coming for crosses, she's doing well with the ball at her feet, so we're really pleased with her," he said. The Melbourne-born keeper will be hoping to add to her first clean sheet this weekend against Newcastle.
One-to-Watch: Patricia Charalambous
The fullback has made a very promising start to her W-League career at Glory, with the gutsy defender showing fantastic vision and work-rate down the left-hand-side.
MATCH DETAILS:
Sunday, 20th November 2016
Newcastle Jets v Perth Glory
Venue: McDonald Jones Stadium
Kick-Off: 11:30AM
Referee: Lara Lee
Assistant Referee 1: Avrol Beecham
Assistant Referee 2: Ellie Hayes
Fourth Official: Rebecca Davies
TV Broadcast: Live coverage on FOX SPORTS 505 from 11.30AM and ABC TV from 11.30AM.
To purchase tickets visit: www.w-league.com.au/tickets 
Perth Glory Squad: 1.Melissa MAIZELS (GK), 2.Sarah CARROLL, 3.Kim CARROLL, 4.Alyssa MAUTZ, 5.Patricia CHARALAMBOUS, 6.Carla BENNETT, 7.Nicole STANTON, 8.Shawn BILLAM, 9.Rosie SUTTON, 10.Vanessa DIBERNARDO,  14.Caitlin DOEGLAS, 17. Natasha RIGBY, 18. Gabby DAL BUSCO(GK), 20.Samantha KERR (c) 22.Arianna ROMERO
Ins:  Nil
Outs:  Nil
Unavailable:  Nil
Coach: Bobby Despotovski
Newcastle Jets Squad: 1.Kelsey WYS (GK), 2.Sophie NENADOVIC, 3.Elizabeth O'REILLY, 4.Megan OYSTER, 5.Arin GILLILAND, 6.Cassidy DAVIS, 7.Gema SIMON (c), 8.Emma STANBURY, 9.Jennifer HOY, 10.Rhali DOBSON, 13.Grace MACINTYRE, 14.Brooke MILLER, 15.Elizabeth COPUS-BROWN, 17.Jenna KINGSLEY, 18.Clare WHEELER, 19.Ashlee BRODIGAN, 20.Claire COELHO (GK)
**two to be omitted**
Ins: 13.Grace MACINTYRE (returns from sickness), 15.Elizabeth COPUS-BROWN (promoted)
Outs: Nil
Unavailable: 12.Chloe LOGARZO (injured)
Coach: Craig Deans
– See more at: http://www.perthglory.com.au/article/glory-take-on-rampant-jets-in-round-3/woelvb5f7bst10yendi8ucwbx#sthash.lXFXCSXm.dpuf
Read more at http://www.perthglory.com.au/article/glory-take-on-rampant-jets-in-round-3/woelvb5f7bst10yendi8ucwbx#WbWcR7ucvXlm8aBG.99