Wednesday, 3 June 2015 –
She scored four goals at the 2007 World Cup as Australia made the quarter-finals, losing to South American giants Brazil 3-2.
It was breakthrough moment for the women's game in Australia and a number of players in this squad – just starting out in the game back then – were inspired by De Vanna's displays on the world stage.
Still a part of the Westfield Matildas squad eight years on, De Vanna is relishing a leadership role as a co-captain, alongside defender Claire Polkinghorne for the 2015 FIFA Women's World Cup.
image: http://images.performgroup.com/di/library/FFA_Matildas/87/b2/lisa-de-vanna-celebrates-a-goal_1vmkofvjrydf21pwytw7yz78gp.jpg?t=1979819237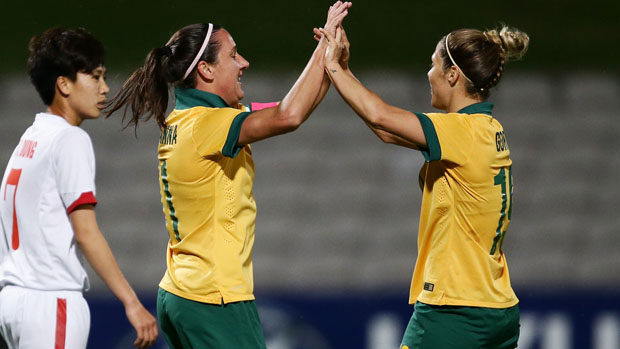 Told many of her team-mates named her as their inspiration growing up, an embarrassed but humbled De Vanna said: "It's a nice thing for them to say. It's the same way I looked at Cheryl [Salisbury] and all those players.
"It's nice to think 10 years down the track that players are looking at me like I was at Chez, Di Alagich and Joey Peters.
"I really appreciate the girls and what they have done for themselves. I always say it to them 'when you go out there you owe it to yourself because you are good enough to be here and you deserve this'.
Giggs, Beckham inspired Matilda's World Cup dream
"That's all that matters, go out there and believe in yourself because it's all good having everyone believe in you but if you can't believe in yourself then you're not going to go out and perform.
"I'm very passionate, I wear the shirt with a lot of pride and I want the girls to know that."
There's not much De Vanna hasn't experienced in the game over the last decade in the green and gold.
With 33 goals in 97 internationals she will again be a key player for Alen Stajcic's side in Canada.
image: http://images.performgroup.com/di/library/FFA_Matildas/7d/c/lisa-de-vanna-leads-the-westfield-matildas-out-against-vietnam-in-their-farewell-match_nyfbqunpw5nv1mj62yf0pcnhd.jpg?t=-1261808059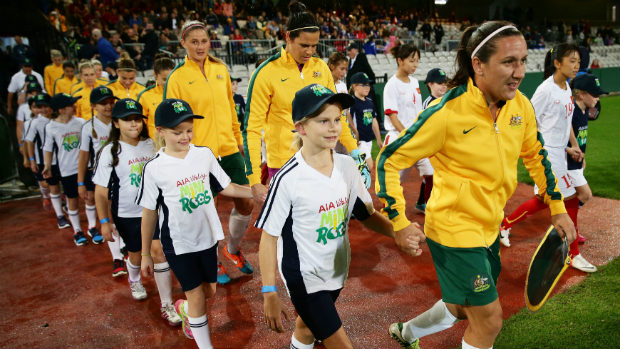 The 30-year-old admits the women's game has changed incredibly since she started out but she has managed to adapt along the way to remain an exceptional international player.
"Don't get me wrong I still have my fears. I know as I get older the girls are getting better," De Vanna said.
"But as long as I believe in myself and have that confidence, I'm pretty certain in what I can do and that will never change.
"I dictate where I am at and not someone else. I've been blessed in the fact that playing in the US and overseas that people still respect me as a dangerous player."
De Vanna admitted this has been the hardest but most rewarding preparation she has ever been involved in with the Matildas.
A tough group including USA, Sweden and Nigeria awaits but she believes Stajcic has instilled the right mentality for the team to succeed.
Matildas prepare well for World Cup
"The cultures, the behaviours he wants, the philosophy he wants to imply in football but also he wants us to be more tight and united as a team," De Vanna said.
"There's going to be tough times, there's going to be good times and that's where you really see character.
image: http://images.performgroup.com/di/library/FFA_Matildas/55/e1/matildas-players-celebrate-a-goal-during-their-11-0-win-over-vietnam_ng3ssqaygow417vcd4rzugowo.jpg?t=2034032253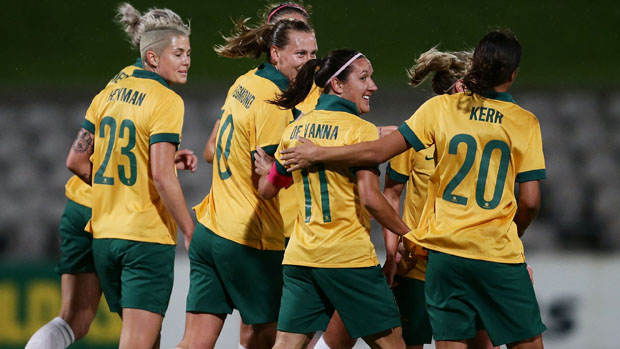 "Staj wants us really to focus on the bigger picture. This whole preparation and the hard work we've done, the girls know that when it comes to those big games, we'll look back at what we've sacrificed and that will be the motivation we need to push on."
Asked if this is likely to be her last World Cup campaign, De Vanna said: "I feel this will be…but I said that about the last World Cup too.
"I'm 30 years old and for me I want to leave a legacy and be sort of a legend. If I go to this World Cup and do well, not just me but the team, I don't want to keep chasing that.
"Then I want to go to the Olympics, win something and end it like that. That would be the ultimate fairytale for me."

Read more at http://www.matildas.footballaustralia.com.au/article/the-great-de-vanna-inspires-new-gen-matildas/suapqs7m81531qsreiq9uuek4#rhWJuoEM8WDXQUgC.99