–
Glory opened Season nine of the W-League season with an impressive 4-2 win over Western Sydney in a 6-goal thriller at nib Stadium.
The impressive performance highlighted many positives for the side, with the new signings blending in nicely alongside the likes of Rosie Sutton and Nikki Stanton who were superb throughout the Wanderers clash.
Round two opponents Brisbane Roar also began the campaign in spectacular fashion, with a 2-1 win in front of a record 3,105 at Spencer Park. The Roar powered back following Caitlin Foord's opener to grab all three points on Saturday.
image: http://images.performgroup.com/di/library/Perth_Glory/99/ff/bobby-despotovski_ceri9kvoftd1161mofuovo5e5.png?t=1376995848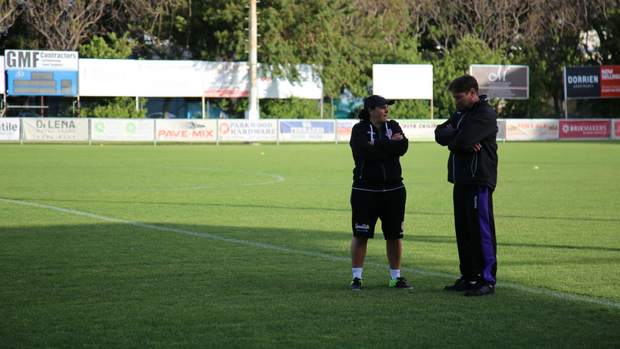 Head Coach Bobby Despotovski said he was pleased with the mental toughness and quality of the team to respond to Western Sydney's fight back.
"The second goal we conceded in the second half woke us up," he revealed.
"We just lifted from there."
The Round 2 match-up is an early season top of the table clash, which promises to be an exciting encounter at the Glory Women's new home at Dorrien Gardens.
MATCH DETAILS:
Saturday, 12 November 2016
Perth Glory v Brisbane Roar FC
Venue: Dorrien Gardens
Kick-Off: 4:00PM
To purchase tickets visit  www.w-league.com.au/tickets
SQUADS
Perth Glory Squad:  1.Melissa MAIZELS (gk), 2.Sarah CARROLL, 3.Kim CARROLL, 4.Alyssa MAUTZ, 5.Patricia CHARALAMBOUS, 6.Carla BENNETT, 7.Nicole STANTON, 8.Shawn BILLAM, 9.Rosie SUTTON, 10.Vanessa DIBERNARDO, 14.Caitlin DOEGLAS, 17.Natasha RIGBY, 18.Gabby DAL BUSCO (gk), 20.Samantha KERR (c), 22.Arianna ROMERO
Ins:  Nil
Outs:  Nil
Unavailable:  Nil
Coach: Bobby Despotovski
Brisbane Roar FC Squad:  1.Mackenzie ARNOLD (gk), 2.Nina FRAUSING-PEDERSEN, 3.Amy CHAPMAN, 4.Clare POLKINGHORNE (c), 6.Angela BEARD, 7.Sunny FRANCO, 8.Kaitlyn TORPEY, 10.Katrina GORRY, 11.Maili FORBES, 12.Allira TOBY, 13.Tameka BUTT, 14.Summer O'BRIEN, 15.Abbey LLOYD, 17.Emily GIELNIK, 18.Maddy EVANS, 19.Natalie TATHEM, 20.Georgina WORTH (gk)
**one to be omitted**
Ins:  2.Nina FRAUSING-PEDERSEN (promoted), 13.Tameka BUTT (promoted)
Outs:  Nil
Unavailable:  5.Brooke SPENCE (Quad – 1 week), 9.Cortnee VINE (rested – 1 week)
Coach: Melissa Andreatta
Star: Sam Kerr
Sam is BACK! The Matildas star announced her return from injury in the best possible way, with the forward bagging a match-winning brace. The 23-year-old World Cup star has hit the ground running this season and is already being touted as a favourite for the Golden Boot. The skipper was pleased with the overall performance of the squad, as she praised the efforts of the new signings. Despotovski was also full of praise for the forward saying "she's instrumental for us…she's going to be instrumental as a captain, as a leader and as a footballer."
One To Watch: Caitlin Doeglas
The young midfielder wasted no time in opening her account for the season, with her strike within 18 seconds the second fastest ever goal in W-League history. The goal came so quick that coach Despotovski missed it. "I was looking where I was going to sit, then all of a sudden it's 1-0," he explained. The 19-year-old was ecstatic after scoring her first W-League goal noting she'd never scored anything "that fast" following Kerr's "brilliant pass." Doeglas's eye-catching display shows she's ready to step up this season and become a key player in the squad.
Key Match-Up: Nikki Stanton v Katrina Gorry
The two central defensive midfielders had outstanding opening round games, with Stanton pulling the strings and Gorry slotting the winner for the Roar. The midfield maestros will be an intriguing battle this weekend and could prove vital to the outcome of the encounter.
Key Match-Up 2: Melissa Maizels v Mackenzie Arnold
Another interesting battle will be between the sticks, with former Glory player and two-time W-League Goalkeeper of the Year Mackenzie Arnold facing Perth for the first time in a Brisbane jersey. Melissa Maizels was fantastic on debut against the Wanderers, with the Glory custodian pulling off a smart reflex save just before half-time when the game hung in the balance.
For the Fans:
·         FREE Entry for all Glory members (please show your current members card in the members only entry lane)
·         FREE Parking at the Fitzgerald St Car park
·         Patron entry, Ticket sales and VIP Ticket Collection is from the Fitzgerald St Entry behind the WA Italian Club.
·         Full bar and kiosk open upstairs at Dorrien Gardens including healthy chicken wraps on offer thanks to LiveLighter.
·         Make sure you grab your free Perth Glory Women's wrist band when you enter!
·         FIFA 17 and Inflatable Football ready to play in the Kids Zone at Dorrien Gardens.
– See more at: http://www.perthglory.com.au/article/w-league-preview-glory-hoping-to-christen-new-home-with-a-win-against-brisbane/1fnyr3i2jxxpv1ejzu1xtfxly1#sthash.6CuvqMc5.dpuf
Read more at http://www.perthglory.com.au/article/w-league-preview-glory-hoping-to-christen-new-home-with-a-win-against-brisbane/1fnyr3i2jxxpv1ejzu1xtfxly1#sq4D3pIy8RzOmOqB.99