image: http://matildas.footballaustralia.com.au/di/library/FFA_Matildas/8b/61/westfield-matildas-stars-caitlin-foord-and-steph-catley_23ybp5ly5hi11b8b3byo0qfvw.jpg?t=1237309898
–
With a 25-player squad having concluded a three day camp in Canberra today, Stajcic has narrowed that list down for the tournament that will see the Westfield Matildas play their first international matches since last year's Rio Games where they reached the Quarter Finals.
A host of Westfield Matildas mainstays over the past two years including 2016 AFC Women's Player of the Year Caitlin Foord, veterans Lisa De Vanna and Clare Polkinghorne, Westfield W-League 2017 Championship winning captain Steph Catley and German based duo Elise Kellond-Knight and Emily van Egmond will all travel to Portugal alongside a number of players who find themselves back in the fold with another opportunity to stake their claims.
Teigen Allen, Emma Checker, Emily Gielnik, Hayley Raso and Gema Simon all return after time away from the national team, Gielnik the latest of the quintet to feature in a Westfield Matildas squad after she was part of the squad for the Rio Games qualification tournament last year.
image: http://images.performgroup.com/di/library/FFA_Matildas/c9/26/gema-simon_1rnaxszdm5itb1qeq46hnwi2du.jpg?t=561972274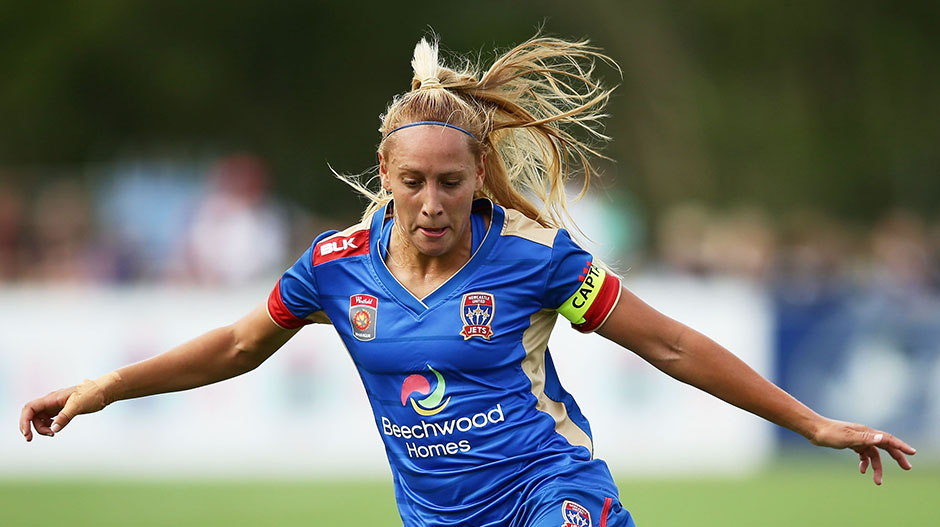 "These players that have come back into the squad have shown plenty during the W-League season and their performances have been at a good level," said Stajcic.
"As I've stated before we're heading into a new cycle so there is an increase on the competition for places and we're looking for who can provide that extra depth and quality."
"Having positions covered by more players and building that depth is really what we're looking for."
18-year-old Adelaide midfielder Alex Chidiac is another who is back in the senior setup after making her solitary Westfield Matildas appearance against New Zealand back in February 2015, while Sydney FC's Amy Harrison has also been included after making a successful return from a knee reconstruction that saw her miss all of 2016.
Stajcic has been forced to leave out striker Michelle Heyman as she continues to recover from an ankle injury that kept her out of the latter part of the recent Westfield W-League season.
"It's great that Amy has managed to come back but we've also got Emma Checker who has come back from a major injury, Chloe Logarzo as well so they've all done really well to get themselves back up to speed," said Stajcic.
image: http://images.performgroup.com/di/library/FFA_Matildas/3e/79/chloe-logarzo-in-action-for-australia-against-new-zealand-last-month_1obs33yzj91tk16zgr8fide61m.jpg?t=-1274276923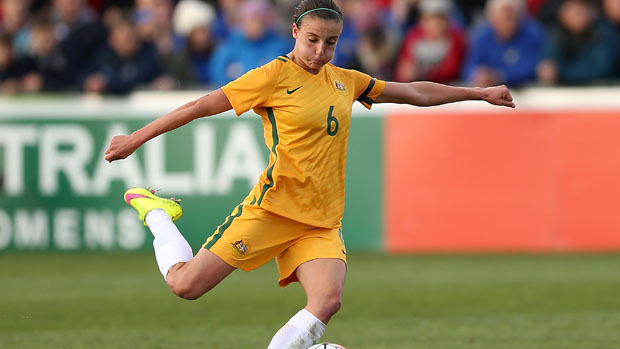 "Unfortunately Michelle Heyman can't be in line for selection as she hasn't recovered quickly enough, but to have a number of players on the verge of coming back to full fitness makes it even more exciting about how this team is going to be."
"Increasing the experience and capacity of players who have been in the team for a long time and continuing to improve them both on and off the field is certainly something we've spoken about this week in terms of improving the quality of the squad from within as the first port of call."
The squad will assemble in Sydney's west for a three day training camp on Monday prior to departing for Portugal on Wednesday night.
Currently 6th in the FIFA women's world rankings, the Westfield Matildas have been grouped alongside Sweden (ranked 8th), Netherlands (ranked 12th) and China P.R. (ranked 13th) for the tournament.
"This tournament is a starting point towards looking ahead to the Asian Cup next year, the World Cup the year after and then the Games in Tokyo in 2020," said Stajcic.
image: http://images.performgroup.com/di/library/FFA_Matildas/5e/cf/westfield-matildas-boss-alen-stajcic-with-co-captain-lisa-de-vanna_wb7ni4kpgvy81wrb0g4el3yrg.jpg?t=-1899312776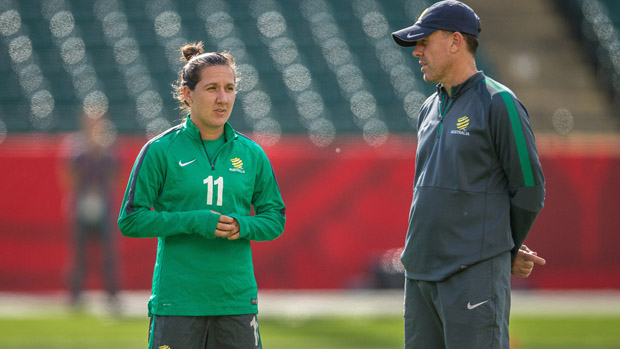 "We're really looking to test the players and see who is going to be part of this squad moving forward. The Algarve Cup gives us four matches against high quality opponents and I'm sure the team will learn and grow a lot from competing in this tournament."
The Westfield Matildas' first match of the Algarve Cup is against Sweden on Wednesday 1 March at 6.30pm local time (5.30am AEDT, Thursday 2 March).
Westfield Matildas squad for Sydney training camp (20-22 February) and Algarve Cup
| | | | |
| --- | --- | --- | --- |
| Name | Date of Birth | Club | A International Caps (Goals) |
| Teigen Allen | 12/02/1994 | Melbourne City FC | 39 (0) |
| Mackenzie Arnold (gk) | 25/02/1994 | Brisbane Roar FC | 11 (0) |
| Ellie Carpenter | 28/04/2000 | Western Sydney Wanderers FC | 5 (0) |
| Steph Catley | 26/01/1994 | Melbourne City FC | 53 (2) |
| Emma Checker | 11/03/1996 | Canberra United | 3 (0) |
| Alex Chidiac | 15/01/1999 | Adelaide United | 1 (0) |
| Lisa De Vanna | 14/11/1984 | Canberra United | 117 (40) |
| Caitlin Foord | 11/11/1994 | Sydney FC | 50 (8) |
| Emily Gielnik | 13/05/1992 | Brisbane Roar FC | 9 (1) |
| Katrina Gorry | 13/08/1992 | Brisbane Roar FC | 49 (13) |
| Amy Harrison | 21/04/1996 | Sydney FC | 3 (0) |
| Elise Kellond-Knight* | 10/08/1990 | FC Turbine Potsdam, Germany | 76 (1) |
| Alanna Kennedy | 21/01/1995 | Sydney FC | 48 (2) |
| Sam Kerr | 10/09/1993 | Perth Glory | 46 (8) |
| Chloe Logarzo | 22/12/1994 | Newcastle Jets | 12 (0) |
| Clare Polkinghorne | 1/02/1989 | Brisbane Roar FC | 92 (7) |
| Hayley Raso | 5/09/1994 | Canberra United | 14 (1) |
| Gema Simon | 19/07/1990 | Newcastle Jets | 5 (0) |
| Kyah Simon | 25/06/1991 | Sydney FC | 70 (20) |
| Emily van Egmond* | 12/07/1993 | VfL Wolfsburg, Germany | 57 (14) |
| Lydia Williams (gk) | 13/05/1988 | Melbourne City FC | 57 (0) |
* Based in Germany and will join the squad in Portugal
Algarve Cup 2017 – Westfield Matildas matches
Group C
Westfield Matildas
China P.R.
Netherlands
Sweden
Westfield Matildas v Sweden
1 March 2017
Albufeira, Portugal
Kick-Off: 6.30pm local time (5.30am AEDT, 2 March)
Westfield Matildas v Netherlands
3 March 2017
Vila Real Sto Antonio, Portugal
Kick-Off: 3.00pm local time (2.00am AEDT, 4 March)
China P.R. v Westfield Matildas
6 March 2017
Albufeira, Portugal
Kick-Off: 3.00pm local time (2.00am AEDT, 7 March)
Group A
Canada, Denmark, Portugal, Russia
Group B
Iceland, Japan, Norway, Spain
The two teams with the best classification of the three groups will play in the Final on 8 March 2017. The third highest ranked team and the best runner-up will play in the third place match.
– See more at: http://matildas.footballaustralia.com.au/article/westfield-matildas-squad-announced-for-algarve-cup/wzw7q29tartq1l9w66rui52jl#sthash.pRSexn4z.dpuf
Read more at http://www.matildas.footballaustralia.com.au/article/westfield-matildas-squad-announced-for-algarve-cup/wzw7q29tartq1l9w66rui52jl#2MqYVWqhuxxQxGPd.99